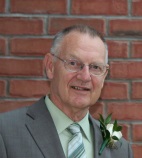 Welcome to the website of Christiaan Johannes Nobels (1938 – 2015).  It was created for the purpose of sharing his music compositions.  The website is maintained by Arie den Hollander.
Anyone that is interested may freely download and use any or all of the material.  The only stipulation is that it may not be reproduced for re-sale.
The majority of the compositions are for organ alone, but Christiaan also arranged some music for SATB choir with organ or piano accompaniment, and further composed new tunes for some new hymns/canticles written by Rev. George van Popta. The website has been organized in such a way that each piece of music is categorized appropriately.  A number of the pieces also include a performance sampling.
Here are some comments that Christiaan received about his compositions:
"We really enjoyed the music. Great variety in style and excellent musicality. Nice to listen to as well!"
"Have you ever sold any of your music? I think many more people would love to have copies."
"My friend remarked that he would pay to have this music and wondered where he could get it."
"I played your Psalm 89 for the offertory today and it was received well. Thanks again."
"I love to play your music….and many, many people love to hear it."
Please download and use whatever music you would like. It was Christiaan's wish that you will enjoy it, and that playing it may serve to God's glory.