Christiaan J. Nobels
It was early 1950's when the love of organ music was cultivated in Christiaan's heart and soul. Almost every Saturday evening his father treated him to organ concerts by the likes of Feike Asma and Dirk Janszn Zwart. They gave regular concerts in the Wilhelminakerk in Rotterdam.  The last such concert that he attended was the evening of the great storm and flood of February 1, 1953.  The organ and the fierce wind rattling the windows of the church were truly competing with each other. Sitting in that church that evening he had no idea of the seriousness of the storm.  A few months later he, with his family, emigrated from Holland to Canada.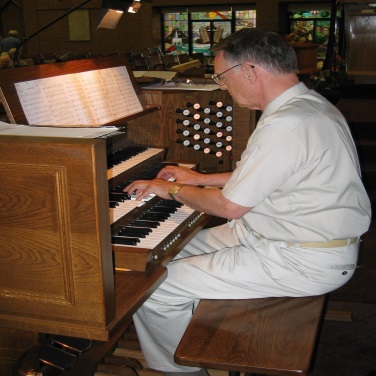 Strangely enough he did not learn to play the organ himself until his mid-twenties and soon had progressed well enough to be accompanying the congregation in the Sunday services.
Music played a big role in Christiaan's life; He served as president of the Ontario Christian Music Assembly for more than 40 years. There he rubbed shoulder with many well-known organists and musicians. They helped to increase his understanding and appreciation of music since many of these individuals were happy to give advice. Eventually he put his hand to writing music, making extensive use of the computer. The Psalms and Hymns in the Book of Praise were his main source of inspiration. It became a hobby the result of which he was always eager to share. Most organists are always happy to get some new music but to get the message out was not always easy. More often than not it consisted of handing over a new piece to one or other organist after hearing him or her play in a service.
In early 2013 he was diagnosed with cancer of the spine. It was difficult to sit at the organ for longer than about 10 minutes and therefore it curtailed his ability to compose music as well. But he could still share what was already done and one way of preserving and of sharing his music was the internet.  The result is this webpage, which is maintained by Arie den Hollander.  Anyone who is interested is encouraged to download any or all of the pieces of music free of charge. Being in PDF format they can easily be printed by anyone with a computer and printer.
Christiaan's greatest joy was the privilege of serving as church organist and to lead God's people in their songs of praise. May the Lord bless also these compositions, to serve to His unending praise.
On April 18, 2015 the LORD called Christiaan to his heavenly home where he has joined in making music with the heavenly choirs.  The music available on this website may serve as part of the musical legacy that he has left behind.