The three hymns in this book are inter-related as follows: Spirit – Faith – Assurance. The Holy Spirit works Faith and by Faith we have Assurance of salvation.
Hymn 38 (Anglo-Genevan Psalter) – A Hymn about the Holy Spirit. (Tune: Winchester New)
Faith of our Fathers (Tune: St. Catherine)
Blessed Assurance (Tune: Assurance)
The compositions have been written in keys to allow the three pieces to be performed in sequence without awkward key changes.
Download this book by clicking on the image below: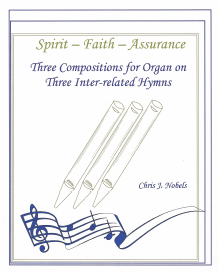 Audio performances (by Arie den Hollander)
Hymn 38 (A Hymn about the Spirit):

Faith of our Fathers:

Blessed Assurance:

Please note: Anyone that is interested may freely download this material. The only stipulation is that it may not be reproduced for re-sale.