Tune (Palmetto) and harmony for a new canticle by Rev. George van Popta: "Praised Be the God of Israel" – A doxology.
The five books of the Book of Psalms all close with a doxology. This song is one extended doxology made from the five. Stanzas 1 and 12 are similar but have a significant difference. Stanza 1 calls forth praise from Israel while stanza 12 calls forth praise from all nations. To represent the post-Pentecost singing of the church today, stanza 12 employs the well-known hymnic phrase "Soli Deo Gloria."
Read more about Rev. van Popta's canticles.
You can download the music by clicking on the image below.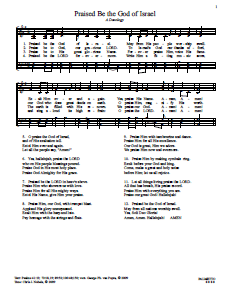 Audio performance on the organ (by Arie den Hollander):

Please note: Anyone that is interested may freely download this material. The only stipulation is that it may not be reproduced for re-sale.