Chorale Prelude on 'The Spirit Sent from Heaven Above' — Hymn 49 in the Anglo-Genevan Psalter (Old Hymn 38 in the same). This hymn is also included in the booklet 'Three Interrelated Hymns'.
You can download the music by clicking the image below.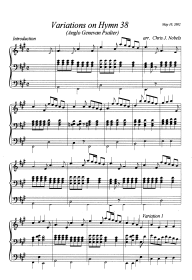 Audio performance (by Arie den Hollander):

Please note: Anyone that is interested may freely download this material. The only stipulation is that it may not be reproduced for re-sale.