After Christiaan passed away in 2015, I was honoured to inherit his Content organ, which his family describes as having been his "pride and joy". As a thank you to his wife Caroline and their children, and as a small way of preserving his musical legacy, I have published an album featuring recordings of 20 of Christiaan's organ compositions which is now available on major music streaming platforms:
The recording was made entirely on the console of Christiaan's Content organ using Hauptwerk software, and played on the Giubiasco Mascioni organ sampleset prepared by Piotr Grabowski.
---
The following playlist was taken from a homemade CD entitled: Chris J. Nobels at the CONTENT Digital Organ. It features recordings that Christiaan made of himself playing his own music on his Content organ. Music for some of the tracks listed below is available on this website, while other tracks are spontaneous improvisations that he recorded.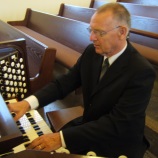 ---
The following is a short playlist of the new hymn melodies which Christiaan composed for four canticles written by Rev. George van Popta.